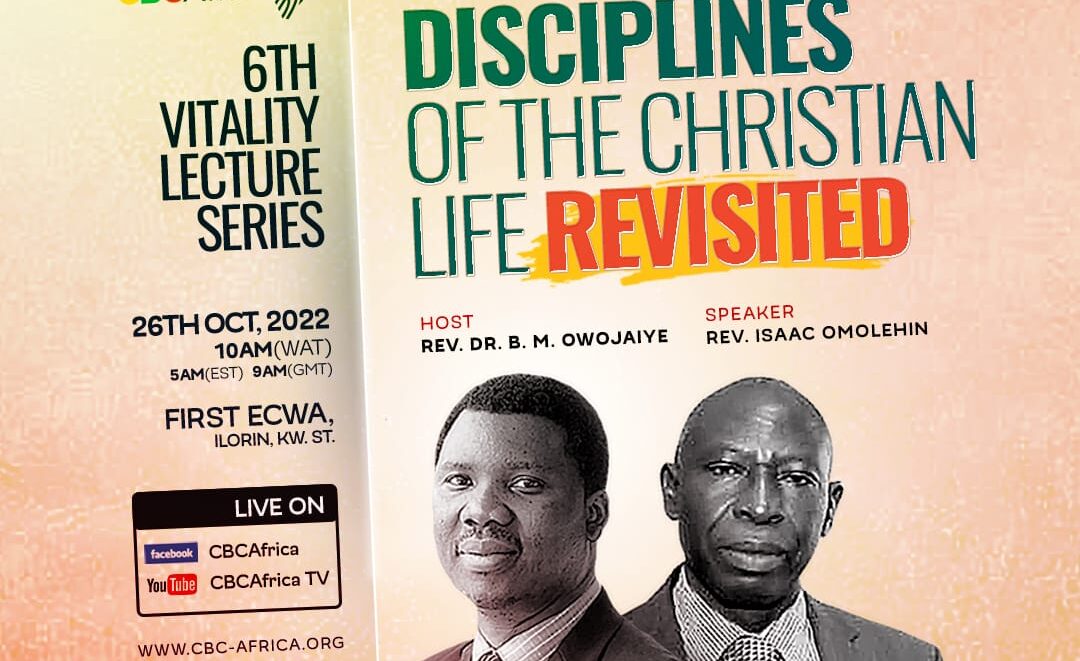 The Center for Biblical Christianity in Africa (CBCAfrica) invites you to its 6th Vitality Lecture Series entitled "Spiritual Disciplines of the Christian Life Revisited". The Guest Speaker is Rev. Isaac Omolehin while the Host is Rev. Dr. B. M. Owojaiye. The Event holds on the 26th of October 2022 at First ECWA, Ilorin. Nigeria by 10.0 AM (WAT).
The Church of the Lord Jesus Christ in Nigeria, Africa, and elsewhere is undergoing significant setbacks in fulfilling its mission on earth partly as a result of the gradual erosion of certain spiritual disciplines native to the practice of the Christian faith both for individual Christians and for the church as a community. Everyone is familiar with the kinds of exercises employed in training the body. But what are the "push-ups" that build spiritual strength? What exercises can be used to train the soul? Spiritual disciplines are habits, practices, and experiences that are designed to develop, grow, and strengthen certain qualities of spirit — to build the "muscles" of one's character and expand the breadth of one's inner life. They structure the "workouts" which train the soul. Some spiritual disciplines are personal, inward exercises that are practiced alone; others require interpersonal relationships and are practiced in community. The key word here is: "discipline." How much of these disciplines do we know and are still in practice today? Could this be one of the reasons we are losing the depth that is native to our faith in our Christian practices today?
We have been praying to the Lord to lead us to a matured Christian leader in the land who could breakdown our focus for the VLS2022 in practical terms and whose life and Christian living match well with what he preaches. A leader who understands the church and the human situation in Africa. A leader who can easily diagnose the "diseases" in our Christian upbringing today and who could redirect our attention to sound spiritual disciplines of the Christian life – which is in short supply in today's Christian diets. We are thankful to God that He led us to the Reverend Isaac Omolehin of the Word Commission International, Ilorin, Nigeria; and we are sure that His purpose for this agenda will be achieved through him. You are specially invited!