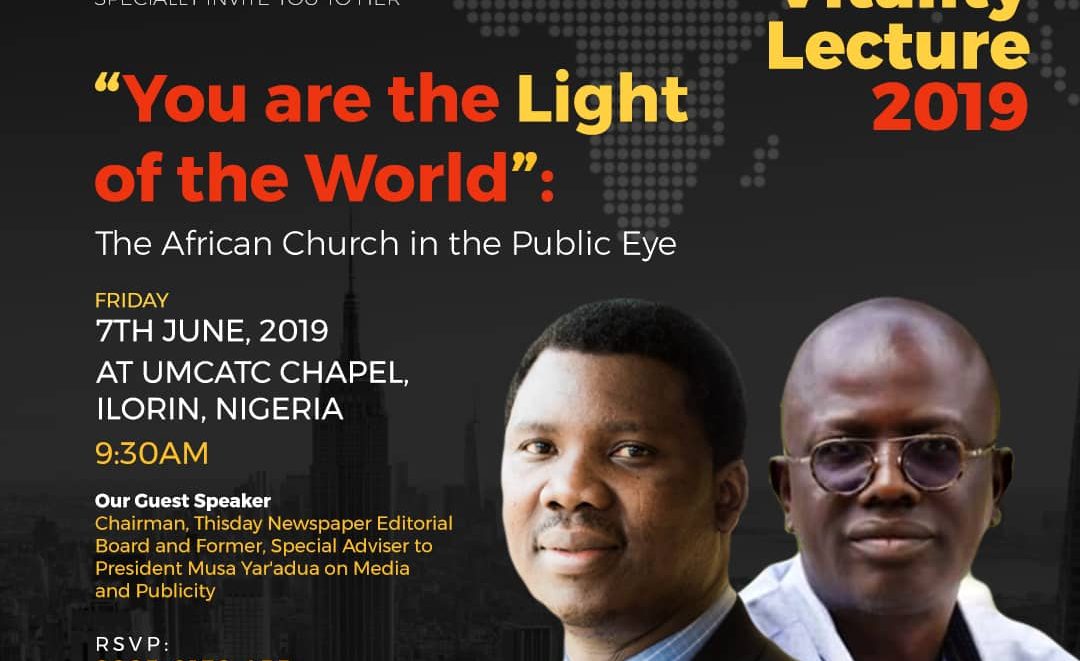 Vitality Lecture 2019
The Center for Biblical Christianity in Africa (CBC Africa) invites everyone to its 3rd Vitality Lecture 2019 tagged "Your are the Light of the World: The African Church in the Public Eye".
The event is scheduled to hold on the Friday 7th of June 2019 by 9.30AM at the UMCATC CHAPEL, ILORIN, NIGERIA and will be featuring Rev'd B. Moses Owojaiye, PhD, CEO of CBC Africa and Mr. Olusegun Adeniyi, Chairman, ThisDay Newspaper Editorial Board and former Special Adviser to President Musa Yar'adua on Media and Publicity as the Guest Speaker.
Special Invitation
Our Lord Jesus Christ is the greatest transformer and reformer of all times. Following His example, His early disciples, though men and women of little or no formal education, had unfathomable impacts on the Church and their society as a whole. They "turned their world upside down" for Christ. They weren't much in quantity but were huge in quality. That's the path we've been saved and called to thread as Christians, even today. But why are some of living in the contrary? We are largely responsible for the negative narrative being told by about the Christian faith in our contemporary society. The time to change the story to the profit of God's Kingdom is now! May the tribe of those who shine the light of Christ in our midst increase and may their impact be deeply felt in the Church and in all strata of our society in Jesus' name!
It's on this backdrop that we'll like to specially invite you to this very important and life transforming meeting. Admission is free. Click on the link below to register. Pray along and kindly share this information widely.
Attendance Registration
Fill the Form below and click the Submit Registration button to register for the event.